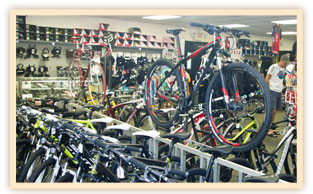 Products
At The Bike Shop, we carry a large selection of products including bikes, accessories, helmets, apparel, eyewear and nutrition items. See all of the products and manufacturers we carry in the sections below.
Bicycles
We offer a wide selection of bicycles – including beach cruisers, race bikes, tri-bikes, tandems and kids bikes. Some of the manufacturers whose cycles we are proud to carry:
Components, Accessories, Clothing, and Tools
Our large selection of products is not limited to bikes though. At The Bike Shop you will find everything you need – components, saddles, clothing, helmets, shoes, lights, locks, bags, fenders, mirrors and much more. Whatever it is that you are looking for, we have a top-notch selection and our friendly staff is always at your service.
Nutrition
At The Bike Shop we realize how important nutrition is to our passion for cycling. So we carry a large selection of power bars, gels and supplements to help you before, during, and after your ride.